Do you want to make your wedding First Dance extra special?
Wow your guests with dance moves choreographed to your chosen song – especially for you!
Create a bespoke First Dance to make your day extra special. Whether it is with you future partner, parent or special someone.
With our tuition packages you can learn a few simple steps to build your confidence over a single hours session or you can perfect a full routine over several hours. Youtube has some great wedding dances uploaded that can provide you some inspiration on what you want to aim towards.
A first dance as newlyweds is meant to be spectacular and romantic, but we all know the reality can be a lot more nerve racking. All your guests watching you, that swaying movement everybody does and the token spin round… Let's change that. Whether you want to re-create a popular dance (Dirty dancing, Ed Sheeran as examples) or just want to move effortlessly with your partner with some simple but effective moves then lessons with us are what you need.
In the comfort of your own home, a local hall or our private Chester dance studio, we can help you create a dance personal to you as a couple. We will teach you different movements and you decide what you like and are comfortable with before we choreograph it.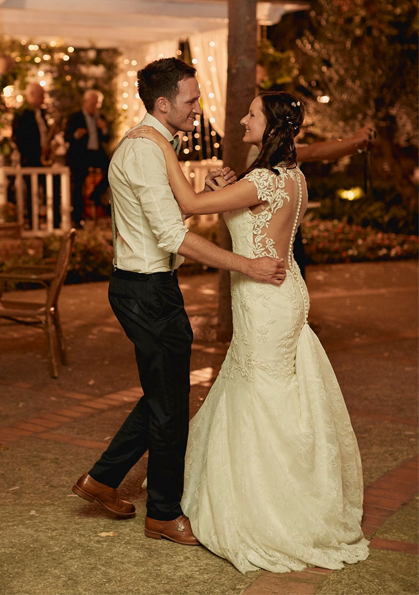 1 Hour Session
Includes:
Basic footwork, holds and turns. This would be suitable if you just want some "dance confidence".
2 Hour Session
Includes:

Learn some basic steps and put together the start of a simple routine.
4 Hours over 3 dates
Includes:

Time to learn, put a more complex routine together.
6 Hours over 4/5 dates
Includes:

Time to learn and put together your routine with rehearsal time.
Venue hire charges are applicable
Highly recommend Kristina
"We were nervous about our first dance on our wedding day more so because as a true man I don't know how to dance lol. Two left feet and no rhythm but from the 1st lesson I was put at ease no rush, Kristina was amazing made things so easy to follow and fun. Both Tina and I really enjoyed it and soon had a routine. Within 4 lessons we could dance our wedding dance.
Would recommend to anyone thinking of any type of dance lesson amazing staff and made it so much fun could not believe how easy it really was.
Thanks so much again, our first dance stunned everyone and left them speechless."
Craig and Tina Lloyd
Thank You
"I would just like to say a big thank you to Kristina for making my day so special by choreographing a beautiful first dance for me and my husband, you made it such fun learning to dance x"
Josie
Amazing Job
"Kristina did an amazing job choreographing our first dance for us and is such a lovely person to work with. Neither of us had any dancing experience (or are particularly talented ?) so the thought of going from 0 to fully choreographed first dance in just six lessons seemed a little challenging! However, we needn't have worried? Kristina taught us all the basic steps and then built up our routine bit by bit in every lesson, improving on our form and creating a routine that really worked for us and our song. We both really enjoyed our lessons and had lots of fun practising!
We'd highly recommend Kristina to any couple looking for first dance tuition – she'll make sure you'll wow your guests."
Katrin & Matthew
Fun and Enjoyable
"We had the lovely Kristina help choreograph our First wedding dance. She made us feel at ease as soon as we walked into the studio. I would highly recommend her to anyone who is thinking of having a first dance routine. Kristina made dancing fun and enjoyable for us both and we would like to thank you for helping us with our beautiful dance routine. Xx"
Lori & Adele Bartley
Brilliant
"Kristina helped us choreograph our first dance last month and she is brilliant. So friendly and easy to get on with, we both really enjoyed our lessons. Anyone thinking of getting some lessons in so you can look good on the dance floor then look no further than Kristina xxx"
Fifi & Todd Reid
Loved every minute
"Thanks Kristina. We loved every minute of it & will defo do the dance again!!! Feels a bit weird not practising every night hehe! We would highly recommend your expertise & felt far more confident than we did at the start. Thanks again for all your help. Xxx"
Anonymous
Depending on how many sessions you would like we would advise keeping your sessions to once per week, 1/2 months before the wedding.
This will help keep it fun and fresh but not too close.